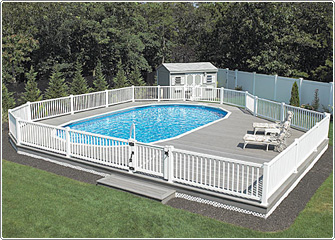 We have teamed up with a local builder that we feel shares the same values of craftsmanship, integrity, professionalism and desire to provide "Only Quality Work". Thru this partnership we are able to provide high quality decking for your aboveground pool or even your inground pool.
Your decking can be built with cost effective pressure treated lumber or enhanced with long lasting Azek decking and railing materials. Either way you will have a professionally built deck for your new or existing pool. All decking is built to current building codes and to our high standards.
We offer several models for aboveground pools and can build any design to accommodate your needs. Stop by our store to get more information or call 781-293-7075.